Queens Medical Malpractice Lawyer
Claims for When Medical Care Goes Wrong
When you go to the doctor for treatment, you should be able to expect that you will get better or, at the least, not get worse. If a medical professional's mistakes did cause you to suffer a new injury or it prolonged your negative health condition, then you might have a medical malpractice case on your hands. Come to the Harris Firm in Queens to get a better understanding of the situation and what to do to seek compensation.
Our attorneys are devoted to doing the most for our clients and getting them the largest settlements or awards possible. If you are looking for a medical malpractice lawyer in Queens who you can trust, you can count on our team of attorneys at Harris Firm. Our attorneys have years of combined experience in working with individuals facing a similar struggle to yours and will go above and beyond to advocate for you and fight for your legal rights. Take a look at our client testimonials and see why we are the most trusted medical malpractice law firm in all of Queens, NY, and beyond.
ntact us today by dialing (718) 487-8669.
What is Medical Malpractice?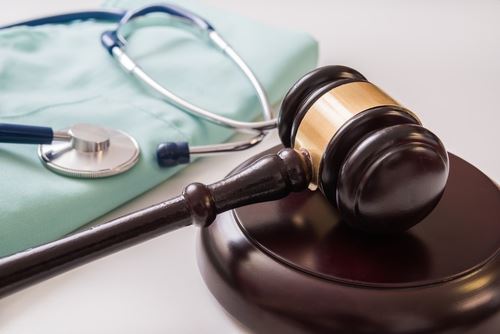 Medical malpractice is generally described as a medical mistake that would have could have reasonably been avoided had another medical professional been in the same situation. Under this definition, not all medical errors constitute malpractice if the error would not have been avoided by most other medical professionals. Also, not liking the outcome of a medical procedure is not enough to justify a medical malpractice claim or lawsuit. Something must have gone "wrong."
Examples of medical malpractice include the following and more:
Misdiagnosis: Doctors have the task of diagnosing a patient's injuries and then prescribing treatments based on their findings. Misdiagnosing an illness – or not reaching a diagnosis in a reasonable amount of time – is one of the most common forms of medical malpractice. An undiagnosed ailment can continually worsen.
Surgical errors: Clear communication is a must when in the surgical theater. A small mistake could have disastrous outcomes for the patient. Examples of surgical errors include nicking a nerve or blood vessel, failing to prevent postoperative infection, amputating the wrong body part, etc.
Anesthesia errors: Anesthesiologists must administer anesthesia in precise amounts during an operation. Administering too much can cause an injury or a potentially fatal reaction. Administering too little can cause the patient to feel pain or fully awaken.
Pharmacy errors: A pharmacist can inadvertently hurt a patient by incorrectly filling out a prescription, such as including the wrong dosage amount or the wrong medicine altogether.
Mixing up patient records: Treatments for a patient can only bring predictable outcomes when they are used on the right patient. If a hospital clerk or a doctor mixes up patient records, then the patient could be in serious danger, no matter what treatments are prescribed.
Incorrect order of triage: In an urgent care or emergency room setting, patients must be treated in order of triage urgency. Failing to treat patients with critical injuries before those with minor ailments can be a form of medical malpractice.
Failing to establish informed consent: Before conducting any sort of medical treatment, doctors are supposed to establish informed consent with the patient if possible. Informed consent means that the patient understands or was given a chance to understand the important aspects of the treatment, such as what it is, how it can help, how it can go wrong, and so on.
How Do You Know If You Have a Medical Malpractice Claim?
A medical malpractice case must include four elements for it to be a valid claim:
Duty: The medical provider must owe the patient a duty of care that meets acceptable standards of medical treatments.
Deviation: The medical provider must have acted in a way that deviated from those accepted standards of medical care, i.e., doing something that another medical provider reasonably would not have done.
Direct: The deviation from standard care must have been the direct cause of the patient's injury or worsened symptoms.
Damage: The injury or worsened symptoms must have caused the patient to experience some form of damage or harm, like physical pain, emotional trauma, or financial loss.
Does your medical malpractice claim include these four prerequisites? It is not always clear at a cursory glance. Allow us to examine your case to get to the bottom of the situation and determine if you can sue for compensation.
How Can A Medical Malpractice Attorney in Queens Help You?
Having a medical malpractice attorney who you can trust by your side is extremely important for ensuring that you receive the legal support and guidance that you need during this time. Apart from being a stressful and difficult experience, trying to resolve your medical malpractice case without an attorney may risk the amount of monetary compensation that you receive.
A medical malpractice lawyer will:
Provide You With Legal Guidance: A medical malpractice lawyer will be able to answer any questions that you may have regarding the legal matters of your case. Objective legal guidance is critical for ensuring that no costly mistakes are made during the process.
Support You: Having an experienced attorney by your side is important for providing you with the emotional reassurance that you need during this complex time.
Advocate For You: Your lawyer really is your best advocate. Attorneys know the ins and outs of the law and will go above and beyond to ensure that you are
Effectively Represent You: In the case that you have to go to court, your attorney will fiercely represent you, and will be able to help and guide you through every step of the process.
Maximize Your Compensation: An attorney has years of experience in negotiating with insurance companies and will know exactly what to do to ensure that you receive the maximum medical malpractice compensation amount that you are rightfully entitled to.
Are you interested in learning more about what we can do to help you with your medical malpractice case? Contact our medical malpractice lawyers today for a free consultation.
Learn How Harris Firm Can Help
When it comes to suing a defendant, few have more legal protections than medical providers, hospital groups, and health clinics. Give yourself a fighting chance by teaming up with the Harris Firm and our Queens medical malpractice attorneys. We have built our career on battling tough defendants and insurance companies. Let us show you what we can do!
To get a free consultation, dial (718) 487-8669 right away.

The Opinions That Matter Most
Our Clients Share Their Experiences With Us

Mr.Harris handled my case perfectly - Saidou K.

I changed my attorney to Mr.Harris and it was the best decision I've made - Genesis A.

Mr. Harris was very professional, and I'm very grateful what he has done for my case. - Lola L.

Very grateful! Definitely will recommend Mr. Harris to anyone who needs. - Sharanjeet S.

Mr. Harris is the very best in the business has been doing this for over 25 years - Israel Y.